At Colleen Sanders Photography, we are passionate about having our clients view their portraits on the walls of their home everyday.  Colleen's goal is to not only provide an amazing portrait experience, but for each client to have gorgeous artwork to display in their home.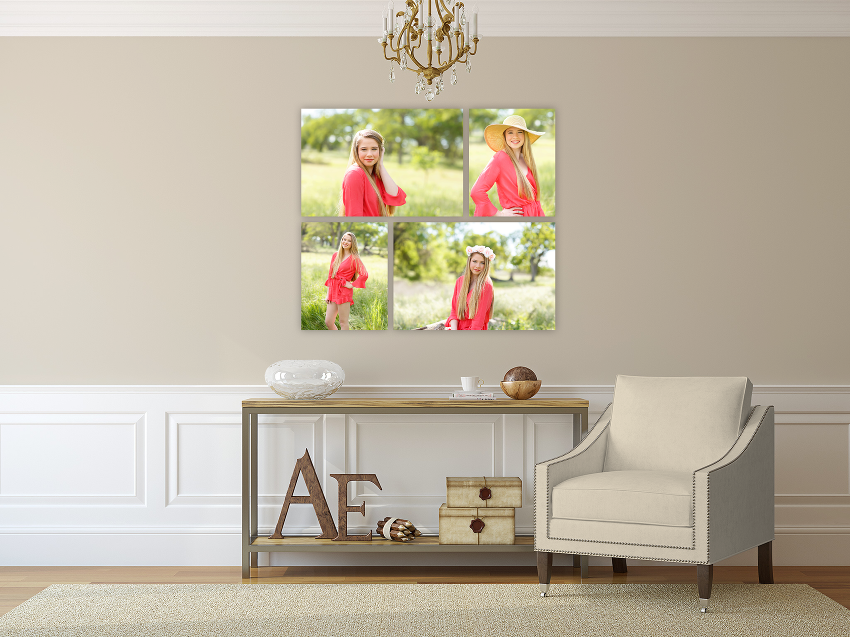 Wall portraits come in a variety of styles to coordinate with your home decor.  Framed prints are timeless and look great in anyone's home.  Canvas Gallery Wraps are classic and showcase your portraits for a lifetime.  Metal wall portraits are a best seller at Colleen Sanders Photography.  Metals are sleek, modern, and vibrant.  They are frame less and float on the wall. Acrylic wall portraits are  a new feature for 2017.  Acrylics give the illusion of glass and create a stunning work of art for your home.

Albums tell your story – the emotions, the details, the smiles, the soft looks, the clothes, everything that makes you who you are.  Custom layouts are hand designed for each client to showcase the beauty and artistry of each gallery.  Albums are available in different sizes and different cover options – select from leather, acrylic, or image covers.  Almost every senior client leaves Colleen Sanders Photography studio with a beautiful album.  More information about our albums can be found at fine art albums.

The Digital Collection is for the modern senior.  The Digital Collection includes a custom image box with up to 35 5×7″ images, with matching digital images on a crystal USB drive.  The digital images are printable and shareable, & include a print release.  The Digital Collection combines the best of both worlds – share your images and enjoy the prints!
It's your year – your time to graduate, your time to announce your accomplishments and your future plans! Shout it out!! Custom graduation announcements share your senior portraits with your friends and family. Select from tons of different styles, which can be customized to coordinate with your images.  See all of our best selling products here.
You might also like